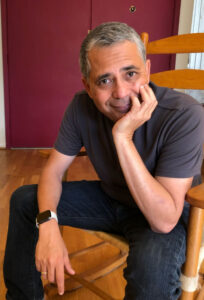 VICENTE LOZANO
The Board of the Macondo Writers Workshop has selected long-time Macondista and indefatigable supporter Vicente Lozano for the Macondo Writers Workshop 2022 Gloria Evangelina Anzaldúa Award.  The award includes registration and fees at the Chuparosa level as well as a travel stipend to attend the Macondo Writers Workshop in the summer of 2023.
Named in honor of Gloria Evangelina Anzaldúa, a queer South Texas writer and thinker, who did groundbreaking work and whose life as a writer exemplifies the tenets of the Macondo Writers Workshop, the award  honors her life and work. Anzaldúa's legacy is one of resilience and perseverance and she embodies a lifelong commitment to "the work." For Anzaldúa, writing meant transformation and discovery. One of her more famous quotes is "By writing I put order in the world, give it a handle so I can grasp it." We believe the award represents Macondo's effort to empower a Macondista by offering a space to do the same.
The Macondo Writers Workshop board selects the annual awardee on the basis of an exceptional record of service and generosity to the Macondo Writers Workshop community. Lozano has embodied a spirit of generosity and this award seeks to honor him and support him  as a writer and valued community member.