THE WORKSHOP
Announcing faculty for our return to in-person workshop at Trinity University July 25-29, 2023
Fiction: Helena María Viramontes
Non-Fiction: Ishmael Reed (virtual instruction)
Cross-Genre/ Performance: Sharon Bridgforth 
Poetry: Rigoberto González

Macondo Celebrates National Poetry Month
Friday, April 28th at 6:30 p.m. CST
Virtual Reading and Scholarship Fundraiser to support writers attending the 2023 Macondo Writers Workshop.

Featuring Richard Blanco, Gloria Muñoz, Amy Alvarez, Sandra Cisneros, and Luis Rodríguez.
The Macondo Writers Workshop is an association of socially-engaged writers working to advance creativity, foster generosity, and serve community. Founded in 1995 by writer Sandra Cisneros and named after the town in Gabriel García Márquez's One Hundred Years of Solitude, the workshop gathers writers from all genres who work on geographic, cultural, economic, gender, and spiritual borders and who are committed to activism in their writing and work.
Rosanna Alvarez • Cathy Arellano • Margarita Cruz • Valeka Cruz • César L. De León • Maya Garcia • Mariana Goycoechea • Tracy Mann • Ruthie Marleneé • Jennifer Thuy Vi Nguyen • Maria-Luisa Ornelas-June • Lorena Ortiz • Kimi Ramírez • Yaccaira Salvatierra • Zelene Suchilt • Lesley Téllez • Denise Tolan • Kira Witkin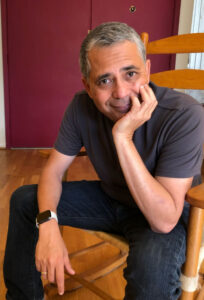 VICENTE LOZANO
The Board of the Macondo Writers Workshop has selected long-time Macondista and indefatigable supporter Vicente Lozano for the Macondo Writers Workshop 2022 Gloria Evangelina Anzaldúa Award.  The award includes registration and fees at the Chuparosa level as well as a travel stipend to attend the Macondo Writers Workshop in the summer of 2023.
Named in honor of Gloria Evangelina Anzaldúa, a queer South Texas writer and thinker, who did groundbreaking work and whose life as a writer exemplifies the tenets of the Macondo Writers Workshop, the award  honors her life and work. Anzaldúa's legacy is one of resilience and perseverance and she embodies a lifelong commitment to "the work." For Anzaldúa, writing meant transformation and discovery. One of her more famous quotes is "By writing I put order in the world, give it a handle so I can grasp it." We believe the award represents Macondo's effort to empower a Macondista by offering a space to do the same.
The Macondo Writers Workshop board selects the annual awardee on the basis of an exceptional record of service and generosity to the Macondo Writers Workshop community. Lozano has embodied a spirit of generosity and this award seeks to honor him and support him  as a writer and valued community member.