THE WORKSHOP
Announcing faculty for our return to in-person workshop at Trinity University July 25-29, 2023
Fiction: Sandra Cisneros / Ruth Behar
Non-Fiction: Ishmael Reed (virtual instruction)
Cross-Genre/ Performance: Sharon Bridgforth
Poetry: Rigoberto González

Macondo Writers Workshop Open Mic Reading
Thursday July 27, 7-8:30 p.m. CST
Trinity University, Dicke Hall, Room 104
1 Trinity Pl, San Antonio, TX 78212
Macondo Writers Workshop Open Mic Reading
Friday, July 28, 7-9 p.m. CST
Trinity University, Dicke Hall, Room 104
1 Trinity Pl, San Antonio, TX 78212
Macondo Writers Workshop Guest Faculty Reading and Pachanga
Featuring: Rigoberto González, Sharon Bridgforth, John Phillip Santos reading work by Ishmael Reed and Richard Blanco. The MC will be Nely Galán, with music by DJ Despeinada.
Saturday July 29, (doors open at 6:30pm) event begins at 7 p.m. until 10 p.m. CST
The Esperanza Peace and Justice Center, 922 San Pedro Ave, San Antonio.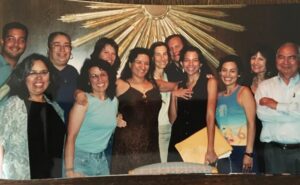 Fronteras: 'It's a different kind of workshop': Writers with conciencia gather at this month's Macondo Writers Workshop
An annual workshop in San Antonio gathers select writers from across the country for an intensive and rewarding five-day experience.
The Macondo Writers Workshop was founded in 1995 at the kitchen table of famed writer, Sandra Cisneros.
The name stems from the fictional town at the center of Gabriel García Márquez's novel, A Hundred Years of Solitude. 
Writers of all genres are able to attend seminars led by esteemed faculty and give public readings of their work. Over the years, featured writers — or Macondistas — have included John Phillip Santos, Richard Blanco, and Reyna Grande.
Read the full article at tpr.org
The Macondo Writers Workshop is an association of socially-engaged writers working to advance creativity, foster generosity, and serve community. Founded in 1995 by writer Sandra Cisneros and named after the town in Gabriel García Márquez's One Hundred Years of Solitude, the workshop gathers writers from all genres who work on geographic, cultural, economic, gender, and spiritual borders and who are committed to activism in their writing and work.