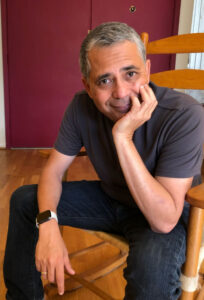 VICENTE LOZANO
The Board of the Macondo Writers Workshop has selected long-time Macondista and indefatigable supporter Vicente Lozano for the Macondo Writers Workshop 2022 Gloria Evangelina Anzaldúa Award.  The award includes registration and fees at the Chuparosa level as well as a travel stipend to attend the Macondo Writers Workshop in the summer of 2023.
Named in honor of Gloria Evangelina Anzaldúa, a queer South Texas writer and thinker, who did groundbreaking work and whose life as a writer exemplifies the tenets of the Macondo Writers Workshop, the award  honors her life and work. Anzaldúa's legacy is one of resilience and perseverance and she embodies a lifelong commitment to "the work." For Anzaldúa, writing meant transformation and discovery. One of her more famous quotes is "By writing I put order in the world, give it a handle so I can grasp it." We believe the award represents Macondo's effort to empower a Macondista by offering a space to do the same.
The Macondo Writers Workshop board selects the annual awardee on the basis of an exceptional record of service and generosity to the Macondo Writers Workshop community. Lozano has embodied a spirit of generosity and this award seeks to honor him and support him  as a writer and valued community member.
Vicente Lozano grew up on Air Force bases in the Midwest. At 13, his father moved the family from Washington DC to a small Tejano town near the Gulf Coast. He commuted every day between those poorer surroundings and an upper middle class Catholic high school, in Corpus Christi.  Eventually, that culture shock led him to investigate his family's merchant history in South Texas; over time, it turned into a search to understand his late grandfather's schizophrenia, how the Mexican community understood it, and how mental illness echoed down through the generations. He attended The University of Texas at Austin, where he earned an honors degree, and went on to earn Master's degrees in English and Library Science. In 1993, Lozano was awarded a Michener Center for Writers post-graduate fellowship in fiction. After college, Lozano returned to community college and became certified in web programming. He has worked as a public librarian, an archivist, a corporate librarian, a systems administrator and a data visualization specialist. In 2004, Macondo changed his life by offering him a home among a community of writers who bear witness to the precarity of living along the fault lines of race, gender, and color. For 2 years he helped organize the Macondo workshop. In 2007, the Texas Institute of Letters awarded him the Dobie Paisano fellowship in fiction. He lives in Austin with his wife Alyssa (also a writer,) a dog and three cats.